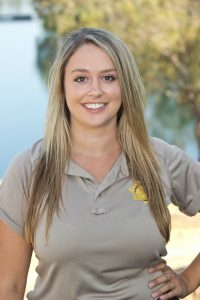 Kira Haley
Lake Recreation Manager
Kira joined Lake Jennings in December 2014, and was a welcome addition bringing with her a solid recreation management background. Her most recent position prior to her arrival at the lake was as the Athletic Director at The Crosby at Rancho Santa Fe. She is an East County native, with a degree in Communication from San Diego State, and is a Certified Park and Recreation Executive. You'll spot her around the campground and lake wearing a smile and her pink steel-toed boots that Earl picked out for her.
---
Sherry Burchert
Recreation Coordinator
Sherry's favorite activity at the lake is driving the dump truck! She joined the lake as our Recreation Coordinator in October of 2019 after working in both animal welfare and community recreation. She studied Recreation Management and Wildlife Biology at the University of Vermont. She joined the team at Lake Jennings to share her love of water and wildlife with the public. You'll find her splitting her time between the lake and the campground!
---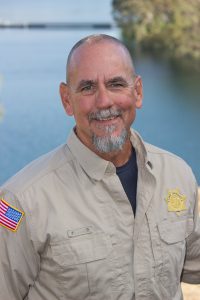 Tim Gray
Maintenance Ranger
Tim has now been a Lake Jennings Ranger for nine years. He is our resident tractor expert, and is excellent at felling trees. You can find him in and around the campground while working, and even camping on the weekends for fun! Tim gave up his job as a transportation manager for a nationwide distribution company to come back to nature. He loved camping and fishing the lake, and realized it could be a career!
---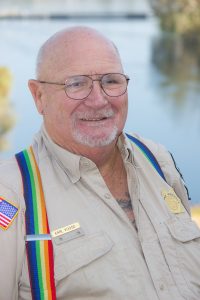 Earl Voogd
Maintenance Ranger
Earl is known for his jolly personality and rainbow suspenders. You can't miss him around the campground! He is a volunteer firefighter with the Julian Cuyamaca Fire Protection District, with 14 years experience as a Ranger at Lake Cuyamaca, and he is still the Reservoir Keeper there. Earl has been with Lake Jennings since December of 2008, and was a Senior Chief in the U.S. Navy in his younger days.
---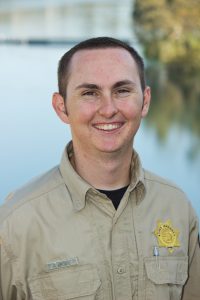 Rusty Brown
Assistant Maintenance Ranger
Rusty started in August 2015 as a Dockhand here at Lake Jennings and has been excelling in his role as our Assistant Maintenance Ranger. You can join him Saturday evenings for S'mores in the campground and find him giving you gentle reminders of quiet hour and fires out time for your campsites. He graduated from Steele Canyon High School and is going to Grossmont-Cuyamaca Community College to study Criminal Justice and ultimately transition into a career in Law Enforcement. He loves the lake because of the beautiful scenery and enjoys seeing people catch fish; especially when it is a child's first fish!
---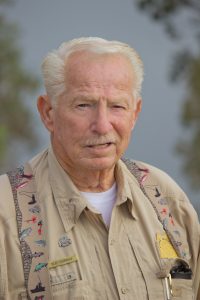 Bud Murray
Assistant Recreation Ranger
Bud is a Lake Jennings staple. He has been working at the lake part time for 30 years. He worked in publishing with the Union Tribune for 20 years and spent some time working in ship yards and on aircraft before that. He is a San Diego local who attended SDSU and studied political science and biology. He loves the lake because of the rewarding experience it brings to all. He enjoys encouraging a deep respect for nature, teaching knot tying and explaining different techniques and bait for catching fish!
---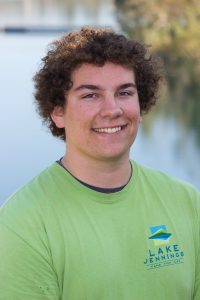 Joey Fenick
Assistant Recreation Ranger
Joey joined Lake Jennings in March 2018. He previously worked in construction for about two years. He is currently attending Grossmont and Cuyamaca Colleges and getting started on his civil engineering degree. He enjoys walking around the lake with his friends and family while just enjoying the day at the lake. Joey loves how the lake is kept up extremely well and enjoys the other people who work and volunteer here. He wants to remind you not to hesitate to ask questions, all the LJ staff are here to help ensure you have a great time!
---
Dennis Connors
Assistant Recreation Ranger
Dennis has been fishing the lake for many years and it was one of the first things he thought he would really enjoy doing in his retirement after a long career with Solar Turbines as a Turbine Engine Technician. He lives right around the corner from the lake and loves being so close to work (if you can even call it work!) He is always up for sharing his fishing tips and tricks with the public and wants to remind new fishermen to always ask at the bait shop what is biting and what bait is the best that day!
---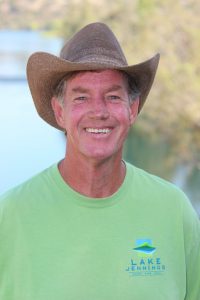 Kip Finn
Campground Park Host
Kip started working at Lake Jennings as a Park Host beginning November 2017. He studied Business and Finance at San Diego State University and has owned Montecatini Ristorante in Northern California since April of 1994. What Kip loves about the lake are the aesthetics; the trees, birds, campers and all the critters. He loves the rocks and boulders too! Some of his favorite things to do around the lake are getting to know both the long and short term campers and feeding the birds and critters. You'll find Kip cooking and sitting around the campfire in the evenings.
---
Mollie Cummings
Park Host
Mollie became a Park Host here at Lake Jennings in November 2019. She enjoys the views and peaceful setting of the lake and loves walking her dogs throughout the campground and hiking trails. Mollie is a big dog lover and currently dog sits as a side job. She studied elementary education at Western Governors University and currently runs Craft Time on Saturday afternoons for our young campers.
---