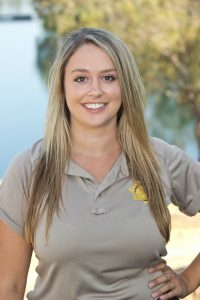 Kira
Lake Recreation Manager
Kira joined Lake Jennings in December 2014, and was a welcome addition bringing with her a solid recreation management background. Her most recent position prior to her arrival at the lake was as the Athletic Director at The Crosby at Rancho Santa Fe. She is an East County native, with a degree in Communication from San Diego State, and is a Certified Park and Recreation Executive. You'll spot her around the campground and lake wearing a smile and her pink steel-toed boots that Earl picked out for her.
---
Sherry
Recreation Coordinator
Sherry joined the lake as our Recreation Coordinator in October of 2019 after working in both animal welfare and community recreation. She studied Recreation Management and Wildlife Biology at the University of Vermont. She joined the team at Lake Jennings to share her love of water and wildlife with the public. One of her favorite things about the lake is driving into the campground on Saturday mornings to the smell of bacon and coffee over the campfire! On the weekends, she splits her time between the campground and the lake. She looks forward to bringing more fun events to Lake Jennings!
---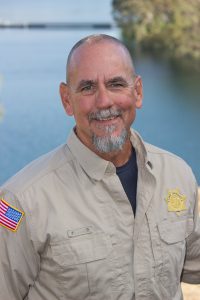 Tim
Maintenance Ranger
Tim has now been a Lake Jennings Ranger for nine years. He is our resident tractor expert, and is excellent at felling trees. You can find him in and around the campground while working, and even camping on the weekends for fun! Tim gave up his job as a transportation manager for a nationwide distribution company to come back to nature. He loved camping and fishing the lake, and realized it could be a career!
---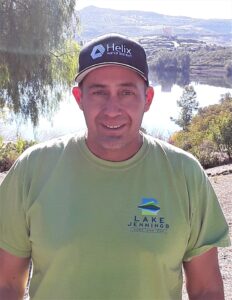 Ray
Maintenance Ranger
Ray joined us here at Lake Jennings in June 2020. He is excited to be here working at the lake as Maintenance Ranger. Ray worked 25 years as the owner of the Dub Spot Custom V.W. & Porsche Shop. He also worked at the Green Door Café in La Jolla. He is currently coaching for the Mountain Warriors Baseball Club in East County. You may see Ray driving the dump truck around waving at everyone he sees. Ray enjoys that the lake is a "get away" in the city. Everyone here is happy to be here and that makes him feel good about being here.
---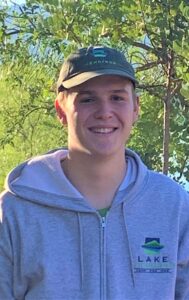 Ben
Assistant Maintenance Ranger
In August of 2020 Ben took a job as a Dockhand at the lake, and now works over at the campground as Assistant Maintenance Ranger.
"The lake is nice and nature is rad" -Ben
---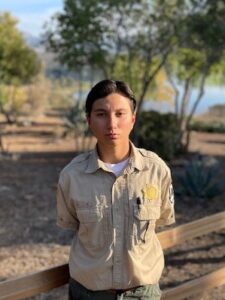 Ruby
Assistant Maintenance Ranger
Ruby joins us from Humboldt State University. She is transferring to SDSU to finish her degree in Environmental Engineering. She has been a plumbers apprentice, laborer for Bycor General Contractors, and a maintenance technician with AirPros. She loves that at Lake Jennings there are views from everywhere! She particularly likes the early morning view from the dam.
---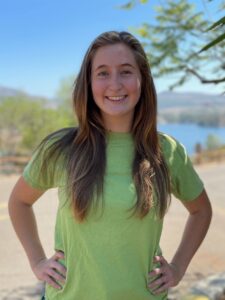 Michelle
Office Assistant
Michelle joined us out here at Lake Jennings in May 2021. She is a student at San Diego State University, where she is working on her degree in Chemistry and Environmental Science. She has also worked at Janet's Montana Cafe and The Truck Shop for the past three years before joining our team. Michelle loves night fishing, going for walks, and driving the boats out here at Lake Jennings!
---
LeeAnn
Guest Service Associate
LeeAnn is a third-generation East County native—her grandfather owned a market and butcher shop located on Main Street, El Cajon in the 1930's and her father ran an El Cajon music store for 30 years. She has certification in horticulture and business, and previously worked as a live nursery specialist & at the Hemet Unified School District and Four Seasons Candy before joining us at Lake Jennings in October 2020. LeeAnn's favorite thing about the lake is the water as it shines when the sun comes up, and she loves fishing and being out on the trails.
---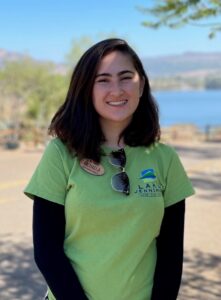 Michaela
Guest Service Associate
Michaela joined the campground crew in July 2021 as Guest Service Associate. She earned her Bachelor's degree in Psychology at San Diego State University, and is a foodie that loves discovering great restaurants in her free time. Michaela loves being at Lake Jennings because the atmosphere is very lighthearted and everyone has a good time out here. You'll find her driving around the campground in her golf cart soaking in the beautiful views and making deliveries to our campers!
---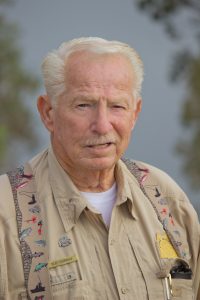 Bud
Assistant Recreation Ranger
Bud is a Lake Jennings staple. He has been working at the lake part time for over 30 years. He worked in publishing with the Union Tribune for 20 years and spent some time working in ship yards and on aircraft before that. He is a San Diego local who attended SDSU and studied political science and biology. He loves the lake because of the rewarding experience it brings to all. He enjoys encouraging a deep respect for nature, teaching knot tying and explaining different techniques and bait for catching fish!
---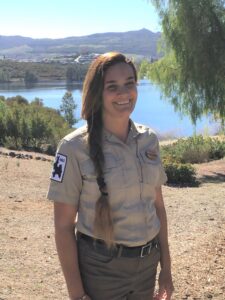 Shannon
Assistant Recreation Ranger
Shannon joined the Lake Jennings team in November 2020. She studied studio and fine arts at Point Loma Nazarene University and has been a painter for 25 years. She previously produced and hosted travel TV show "On Surfari," and also works as a flight attendant for United Airlines. Shannon loves the gorgeous scenery at Lake Jennings–the turquoise blue water along the shore, the peaceful surroundings, and spotting fish and wildlife around the lake. She loves being on the water and helping customers have a fantastic experience during their visit.
---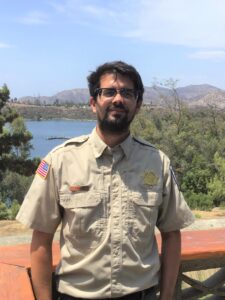 Farmer
Assistant Recreation Ranger
Farmer joined us out here at Lake Jennings in February 2021. He is a Monte Vista High School alum and is currently studying at Cuyamaca College's Center for Water Studies. Farmer loves Lake Jennings because it's a public space where people can get out of the house to exercise and find some peace of mind. You'll find him taking the barge out on the lake to check in on everyone and see how their day is going. Farmer wants to remind you it is important to use your public spaces, and equally important to leave those spaces nicer than you found them!
---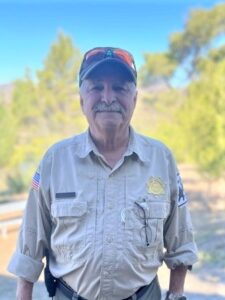 Mark
Mark is an east county native and started working as an Assistant Recreation Ranger in October 2021. He studied to be an air traffic controller at Grossmont Junior College, but retired from the USPS after 25 years. Mark enjoys engaging fishermen and the beautiful scenery at the lake. His favorite hobby is golf, but he also enjoys playing billiards, time with friends, and every once in a while fishing.
---
Cole
Cole joined the Lake Jennings team in October 2021. Cole is a student at Grossmont College and has joined us from his previous occupation as a valet driver at Four Points Little Italy. Cole loves anything and everything that has to do with the outdoors, so it's safe to say you'll probably find him up at the bait shop and running around the lake side!
---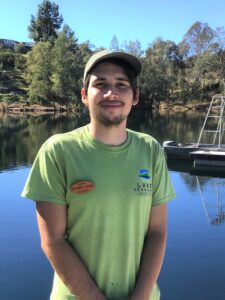 Nathaniel
Dockhand
Nathaniel has been with Lake Jennings as a Dockhand since June 2020. He enjoys fishing and the beauty of the lake. He says, it's so serene being at the lake, you could just take a nap while enjoying the view. Nathaniel just finished high school in 2019 and is interested in a future in engineering.
---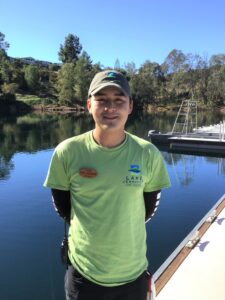 Fidel
Dockhand
Fidel joined the Lake Jennings team in August of 2020. He enjoys spending time outdoors and when he is not outside, he is studying for his bachelors degree in public administration at San Diego State University. He wants to spend his future helping people in the community and he is starting right here at the lake!
---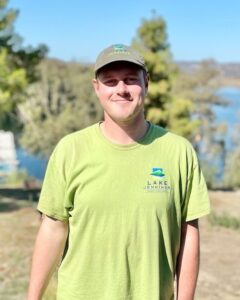 Trevor
Dockhand
Trevor joined our team in June 2021. He previously worked at Ironfist Brewing, and is currently pursuing his degree in Environmental Studies. Trevor loves fishing and taking in the beautiful views of Lake Jennings!
---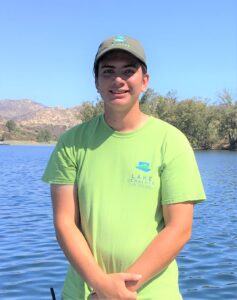 Andrew
Dockhand
Before joining us in June 2021, Andrew worked for SolarTech and a local after school program. He loves the peaceful nature of the lake and enjoys fishing and walking the trails, and appreciates how friendly and helpful the Lake Jennings team is.
---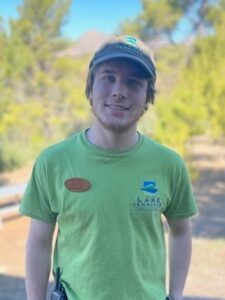 Jesse
Dockhand
Jesse was hired as a Dockhand at the lake in October 2021. He is currently enrolled at Cuyamaca College studying water treatment, which is what attracted him to a position at Lake Jennings. Previously he worked at the California Conservation Corps. When he's not at the lake or school, he enjoys reading and hiking.
---
Christine
Campground Host
Christine has been working here at Lake Jennings since January 2020. She is one of our campground volunteers. Her background is in education. She has taught for 19 years and loves it. For the last 10 years, she has continued to teach part time Emergency Medical Technicians (EMT). What she loves about being at the lake is its peacefulness and year round activities. There is an abundance of wildlife to watch! She enjoys fishing, hiking, bird watching and meeting interesting people.
---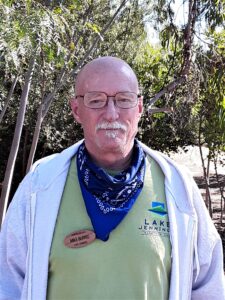 Mike
Campground Host
Mike started in June 2020 as a Park Host here at Lake Jennings. Mike went to school at Mt. Miguel and studied R.O.P. Plastics. He has been coming to Lake Jennings since he was a child and enjoys how relaxing it is here. He also enjoys fishing as a favorite pastime.
---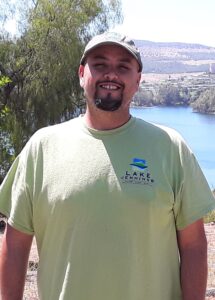 Chris
Campground Host
Before joining the Lake Jennings team in January 2021, Chris worked as an audiovisual engineer and operated concerts and conferences in San Diego, Los Angeles, and Palm Desert. He attended Southwestern and Miramar College, where he studied Music & Audio Production and Engineering. Chris loves Lake Jennings because it is so peaceful and quiet, yet so close to the busy city. He enjoys gathering around the campfire, driving boats around the lake, and hiking with his family. If you see Chris around the campground don't be afraid to say hello!
---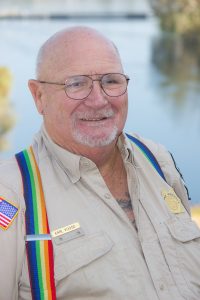 Earl, Retiree
Former Maintenance Ranger
Earl is known for his jolly personality and rainbow suspenders, you couldn't miss him around the campground! He is a former volunteer firefighter with the Julian Cuyamaca Fire Protection District, with 14 years of experience as a Ranger at Lake Cuyamaca where he served as Reservoir Keeper. He was with Lake Jennings from December 2008 to April 2021, and was a Senior Chief in the U.S. Navy in his younger days. Earl's legacy and shining personality lives on at Lake Jennings Campground through his rainbow bench as colorful as the man himself–come check it out!
---